KYODAI DOJO SOCIAL DISTANCING GUIDELINES
Our facilities are consistently deep cleaned and sanitized. Please observe the social distancing markers that have been placed throughout the facility for your wellbeing and for the safety of all members and staff.
Kyodai Dojo Classroom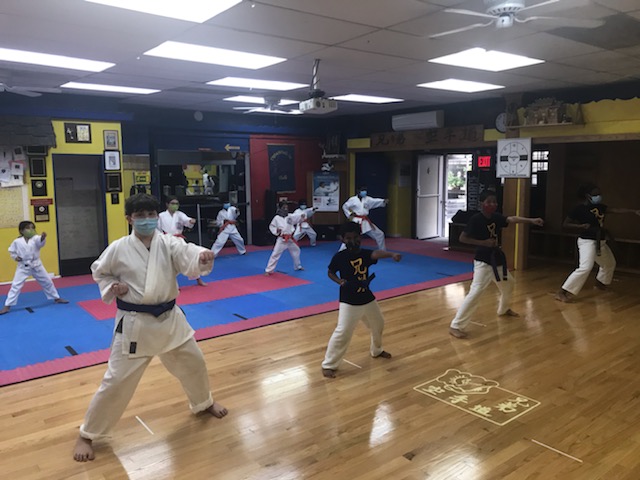 Kyodai Dojo Fitness Center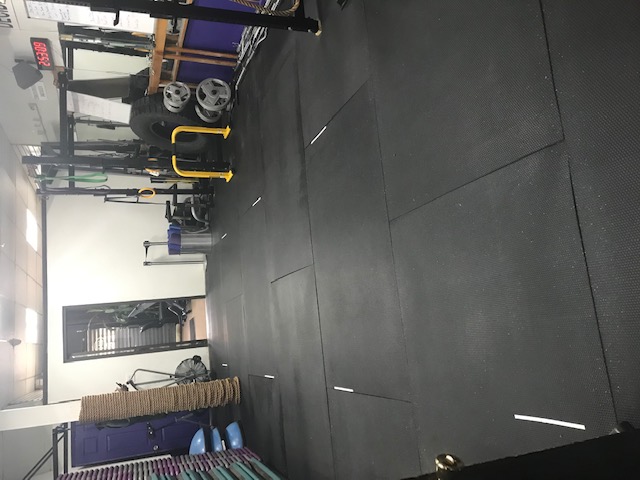 KYODAI DOJO PROTOCOL AND GUIDELINES FOR 2020
1) DO NOT ATTEND CLASSES if a member of your family is sick or someone you have been in contact with was sick or unwell. This is to encourage a safe and healthy environment for everyone.
2) SOCIAL DISTANCING OF SIX (6) FEET APART will be enforced and practiced during all training. The maximum number of students will be 20 which will include the usage of both floors. All classes will be scheduled by ranks.
3) IT WILL BE REQUIRED OF EACH STUDENT TO BE FULLY DRESSED in their gi (uniform) with their belts tied and a FACE MASK when they enter the dojo for classes. Each student should inform the office verbally upon their arrival for their attendance. No student under the age of 12 will be allowed to use the locker room. This will reduce or eliminate gathering.
4) NO TRAINING EQUIPMENT OR SPARRING GEARS WILL BE USED DURING CLASSES. There will be no direct contact among karate-kas during training. There will be no yelling or saying "KIAI" during
classes until further notice.
5) DESIGNATED SPOTS WILL BE ASSIGNED TO EACH STUDENT DURING TRAINING. This will help to maintain social distancing and avoid contact. If a student does not comply with the guidelines, he/she will be asked to leave the class immediately and his/her parents will be contacted.
6)PARENTS SHOULD HAVE THEIR CHILD USE THE BATHROOM BEFORE COMING TO CLASS and teach them to wash their hands thoroughly after each use. The bathroom will be available for
emergencies but cleanliness must be practiced to reduce the spread of germs.
7) UPON REOPENING, THE VIEWING AREA/WAITING AREA must be kept cleared at all times. No gathering will be allowed, no foods or beverages will be permitted and no child will be allowed to
wait for their parents after classes.
8) PARENTS MUST PICK UP THEIR CHILD IMMEDIATELY AFTER CLASS. The kids will enter from one entrance and exit through another as per the signs posted. NO EXCEPTIONS. There should not be
parents gathering outside the dojo since we need to practice social distancing for the safety of all.
9) PROMOTION TO A HIGHER RANK CEREMONY will be done during the students class. This will be reevaluated periodically and advised.
10) PAYMENTS FOR CLASSES MUST BE MADE ON TIME TO THE OFFICE. However, this will be done without direct contact. Contact the office for details on the procedures.
11) ALL FLOORS AND ITS SURROUNDINGS WILL BE DISINFECTED DAILY so as to keep everyone safe. Hand sanitizers will be available as needed for those taking classes.
The Management and Staff thanks you for your cooperation in helping to maintain a safe and healthy environment for all.
Classes Practicing Social Distancing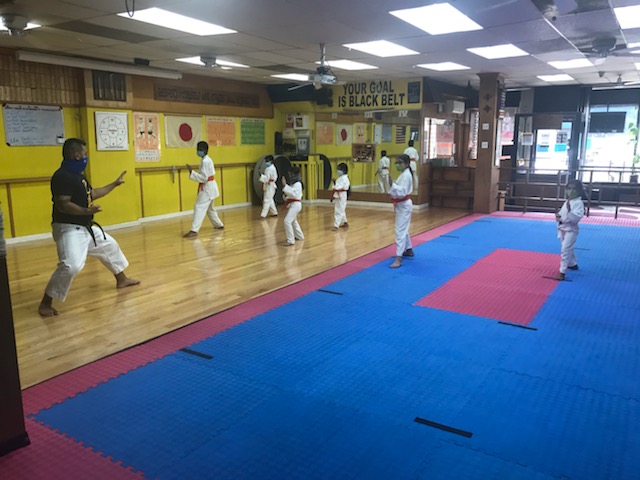 Outside Waiting Area