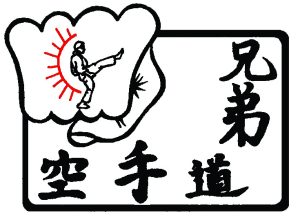 Kyodai (pronounced "kee-oh-dye") stands for the relationships in a family and, more specifically, means "brothers and sisters." At Kyodai we are all brothers and sisters in martial arts.
You are about to undergo a unique experience. Karate is more than physical combat, it also enriches your mind and deepens your spirit. Karate is an art form with a long and honorable tradition.
At Kyodai, we offer you a comprehensive program in physical fitness and self-defense. The selection of classes includes aerobic and anaerobic training, as well as soft and hard styles of martial arts for internal and external development. We invite you, at no cost or obligation, to visit our school, observe our classes, and tour our facilities.
A Friendly Atmosphere
You will find that the sense of goodwill and family spirit is exceptional at the Kyodai Self Defense and Wellness Center. Our students are friendly, highly motivated people from all walks of life. Close and lasting friendships are commonplace at Kyodai. We encourage our members to stick around after class, whether to practice together informally or just to get to know one another.
Our staff members are consummate professionals. They are friendly and courteous and will help you in any manner possible. The martial arts instructors are highly qualified and knowledgeable in their areas and have been chosen not only for their experience and teaching ability but for their desire to share their knowledge with others too. Our fitness instructors are chosen based on certification by accredited associations as well as teaching ability and enthusiasm. Whatever study you undertake, you will always receive expert instruction. Through affiliation with similar institutions, Kyodai provides qualified instructors to several locations to conduct on-premises training programs. The Kyodai instructors and facilities are not limited to martial arts. Complete fitness programs for the entire family are at your disposal.
Full Service and Flexibility
We offer a clean, spacious, and fully equipped dojo (school). In addition to the karate training room, two fully padded training rooms are available. There are full locker room facilities for men and women.
Due to varying lifestyles and work commitments of our students, we also offer a flexible schedule. Classes are available at many times throughout the day, seven days a week. No member –neither beginner nor advanced, child nor adult –is locked into a specific schedule. We need not be notified in advance when you plan to attend class. If school, family, or work responsibilities prevent you from attending at certain times, our flexible schedule allows you to change your training days from week to week.
For any and all of your martial arts equipment needs, please ask the front desk attendant. If we do not have something in stock, we can order it for you.